Início do conteúdo da página
The Magical Book of Gamification
Links relacionados: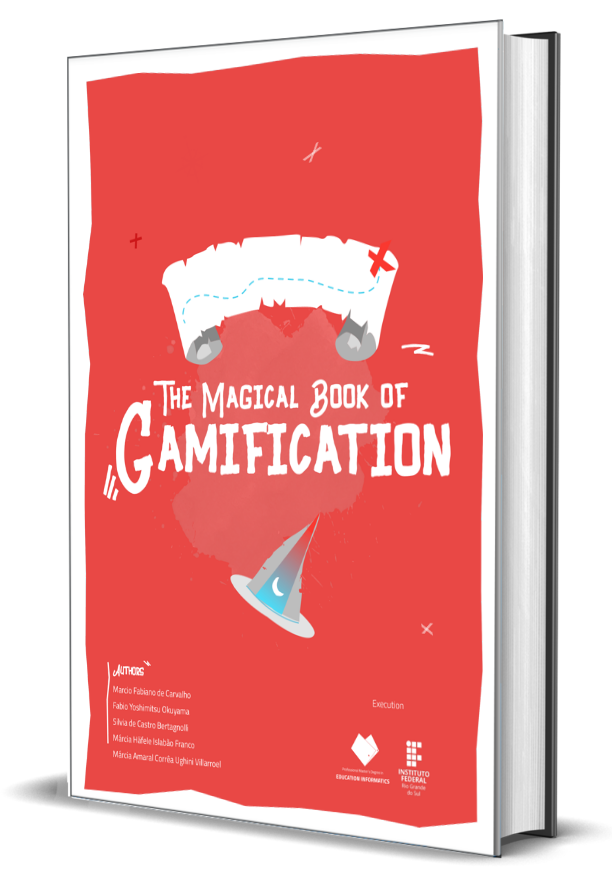 Presentation
In recent years, many investigations have been conducted to analyze the applicability of games and their concepts in the educational area. Similarly, gamification, which includes the use of game mechanics and dynamics in non-game situations, has also been extensively researched in the context of education. Several studies (NETO; SILVA; BITTENCOURT, 2015; GONÇALVES, 2016; BRITO; MADEIRA, 2017; CUNHA et al., 2017; SILVA, 2017; CONEJO; GASPARINI and HOUNSELL, 2019; LOPES, et al., 2019; MOMBACH; SOUZA; ROSSI, 2019; SILVA; RODRIGUEZ; ROCHA, 2019) have pointed out that gamification can be adopted in the classroom, although some teachers believe that this learning strategy would require the application of several Information and Communication Technologies, and that the public school environment would not be ideal for this.
In this sense, this book aims to playfully bring the concepts of gamification and suggest a set of steps, properly systematized, that can guide teachers in the organization process of this pedagogical strategy. Thus, it is intended to allow education professionals to apply it, using both technological resources as well as unplugged environments.
 Thanks to its elements, gamification offers multiple advantages in the educational context, because it allows teachers to motivate and engage students in their learning process. In addition, it can be used as an instrument to encourage the development of skills and competences, as foreseen by the National Common Curricular Base (BRASIL, 2017) and the Legal Guidelines for National Education (BRAZIL, 1996).
Through the dynamics and behaviors of gamification, it is possible to encourage the skills and competences needed in the 21st century. In this context, Tarouco (2013) argues that it is necessary to observe three categories: "Domain of central themes", "Learning and innovation skills" and "Skill with information, media and technology." In the context of gamification as a learning strategy, the essential point is related to learning itself, where:
"Learning and innovation skills are increasingly recognized as those that will distinguish students who are prepared for an increasingly complex life and work environment in the 21st century from those who are not prepared. The emphasis on creativity, critical thinking and collaboration is essential for students to act in a competent manner. The ability to think creatively, work creatively with others, implement innovations to solve problems effectively, and use a systemic approach to analyze and evaluate evidence, arguments, points of view, and beliefs to make decisions are some of the skills that can be developed. With regard to communication and collaboration, the ability to articulate ideas, to effectively use oral, written, and non-verbal communication in different contexts, and using various types of media and technology, as well as the ability to listen effectively, and decipher meanings (knowledge, values, attitudes, and intentions)." (p. 299)
In addition to the aforementioned aspects, considering the perspective of professional and technical education, in the National Catalog of Technical Courses (MEC, 2016), many of the professional skills expected from graduates of these courses can be improved by using gamification.
This book is organized in eight chapters that establish an analogy with game levels, which are used to symbolize the progress within the gamification. They can be used as a "marker", indicating to players where they are in the gaming experience (ZICHERMANN; CUNNINGHAM, 2011).
Marcio Fabiano de Carvalho
Fabio Yoshimitsu Okuyama
Silvia de Castro Bertagnolli
Márcia Häfele Islabão Franco
Márcia Amaral Corrêa Ughini Villarroel
Download Here: The Magical Book of Gamification (PDF)
Free Download at Amazon

Support Material
This material was developed to support the Magical Book of Gamification. The spells used for its creation are in accordance with the magical laws in our country, they are intended for non-witches beginning in the Ancestral Art of Gamification, one of the mandatory subjects in Teaching Training Schools for Witches and First Order Magicians.
Sample Spreadsheets from The Magical Book of Gamification
A set of spreadsheets (with samples) created on Google Spreadsheets to create a gamification experience using the most used elements with the checkpoints (pedagogical, frequency, and event classifiers), Acceptation Rules, Points, Levels, Badges, Feedbacks, Scoring Mechanics , Levels Mechanics, Badges Mechanics, and Feedback Mechanics.
Editable spreadsheets are available to organize your own gamification! Download or create your own copy Access here
PLEA Canvas
CANVAS for using the PLEA tool as a pedagogical tool in the PLanning, Execution and Evaluation of learning objectives, using the gamification approach and learning self-regulation strategies.
You will find:
- PLEA adapted as a tool for teacher pedagogical planning using gamification;
- PLEA adapted as a tool for teaching pedagogical planning;
- PLEA adapted as a tool for student planning for a generic task;
- PLEA adapted as a tool for student planning for exercises in computer programming languages.
Templates to organize your gamification projects! Download or create copies Accessing here
The Magical Book of Gamification QUIZ
After going through the challenges of the Magic Book of Gamification and getting to know the incantations that involve Power Cards and Template Sheets to plan and organize your gamification, it's time to know what you remember from your lessons..
Access here  and play right now!
Evaluation Form
Tell us what you think of the Magic Book of Gamification, leave your impressions and suggestions for future versions and revisions. Send your feedback here

Acknowledgments

The authors would like to thank Instituto Federal de Educação, Ciência e Tecnologia do Rio Grande do Sul (IFRS) for the financial support granted for the publication of this book, through Public Notice IFRS 36/2020, for the Portuguese version of this book.
Fim do conteúdo da página